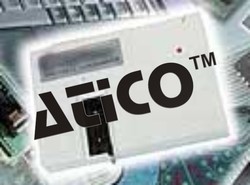 Product Description
40 Pin Universal Programmer

Advanced Technocracy Inc. is Manufacturer, Exporter & Supplier of 40 Pin Universal Programmer.

FEATURES

40 Pin DIP ZIF socket
Printer Port Interfaces, parallel communication, uses address 278H,378H, 3BCH
Easy interface to LAPTOP, PC, PS/2 or compatibles.
Mouse support, user friendly menu driven software interface.
High speed programming, Cost effective Hardware and Flexible Software.
Tests standard logic and SRAM devices
Supports DOS and Windows XP/2000/NT/ME/9x.
Free software update from internet.
SPECIFICATION
AC adapter : Input 100V- 240V AC, Output 12VDC/2Amp.
Dimension : 200(L)x140(W)x24(H)mm
DEVICE SUPPORTSupports more than 3450 devices, including :
Most E(E)PROM, Series E(E)PROM. Flash.
GAL, EP3xx/6xx/9xx, PEEL, PALCE, TIBPAL, PLUS, PLS, PLH, PLC, ATV, ATF, CPL, 85Cxxx, 5Cxxx, DS12xx.
Microcontrollers 87xx / 89xx / Z86Exx / TMS320xxx / D77Pxx / D75Pxx / D78Pxx / PD75xxx / HD6370xxx / PIC16Cxx/17Cxx, COP87xx, and PSD3XX.
TTL TESTER : 74 SERIES
CMOS TESTER : 40/45 SERIES
MEMORY TESTER : 2K/8K/32K STATIC RAM
HARDWARE & ELECTRICAL SPECIFICATIONS
Device socket : One 40 pin ZIF socket.
Programmer dimensions: 7 3/4" L x 5 1/2" W x 3/4" H.
Power supply : Input AC 100 to 240V , Output : DC 12V/ 1.5Amp.