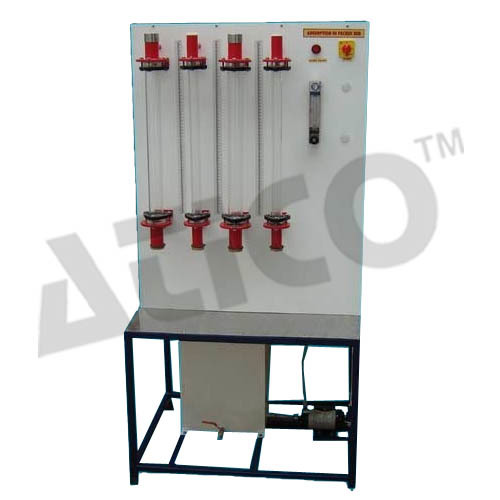 Product Description
Adsorption In Packed Bed
Advanced Technocracy Inc. is Manufacturer, Exporter & Supplier of ADSORPTION IN PACKED BED.
ADSORPTION STUDIES IN PACKED BED COLUMN
The setup consist of three vertical column packed with activated charcoal (The columns fitted will be different Diameter and packing height to make a comparative study). Columns are operated individually. Liquid feed with dye is Fed to the individual column from the bottom and samples are collected from the top at regular interval of time.
Rotameter is provided to measure the flow rate. Pump with a feed tank is provided for fluid flow.
TECHNICAL DETAILS:
Product Adsorption Setup MTLE-01
Reactor Column Material Borosile Glass, different diameter with different height of packing (3 Nos.)
Feed Tank Material Stainless Steel, Capacity 20 Ltrs., feed lines, drain valve etc. (1Nos.)
Receiving Tank Material Stainless Steel, Capacity 20 Ltrs (1Nos.)
Feed Circulation By pump, Magnetic drive made of Polypropylene (1Nos.)
Flow Measurement Rotameter 1 Nos. (for feed)
Feed Piping PVC / SS size 1/4
Stop Watch Electronic
Control Panel On off switch, Mains Indicator etc.
The setup is painted with good quality paints & mounted on a strong support.