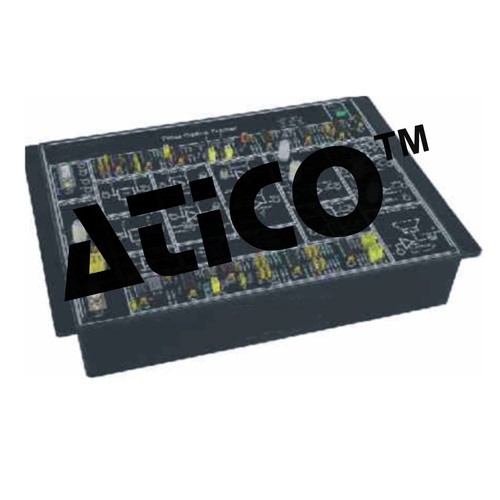 Product Description
Advanced Fiber Optics Trainer

Advanced technocracy inc. Is manufacturer, exporter & supplier of Advanced Fiber Optics Trainer
Fiber Optics as a new transmission medium has revolutionized the telecom industry. It has numerous advantages over traditional wired or wireless transmission systems. Thus study of Fiber Optic communication systems has become more important. Advanced Fiber Optics Trainer is designed to learn the communication techniques in Fiber Optics. The trainer demonstrates properties of Fiber Optics Transmitter & Receiver, characteristics of Fiber Optics Cable, different types of Modulation / Demodulation techniques and PC to PC communication via fiber link using RS232 interface.It can also be used to demonstrate various Digital Communication Techniques via Fiber Optic link using Digital Communication Trainers.

Features:


1. Full Duplex Analog & Digital Trans-receiver
2. Single Module covering large number of experiments
3. including experiments with Optical Power Meter
4. 660 nm & 950 nm channel with Transmitter & Receiver
5. AM-FM-PWM modulation / demodulation
6. PC-PC comm. with RS232 ports & software
7. On board Function Generator
8. Crystal Controlled Clock
9. Functional Blocks indicated on-board mimic
10. Input-output & test points provided on board
11. On board voice link
12. Built in DC power supply
13. Numerical Aperture measurement jig and mandrel for
14. bending loss included
15. Switched faults on Transmitter & Receiver
Experiments that can be performed:
1. Setting up Fiber Optic Analog & Digital Link
2. AM system using Analog & Digital Input Signals
3. Frequency Modulation System and Pulse Width
4. Modulation System
5. Study of Propagation Loss, Bending Loss & Measurement of Numerical Aperture
6. Characteristics of E-0 Converter
7. Characteristics of Fiber Optic Communication Link
8. Setting of Fiber Optic Voice Link using Amplitude,
9. Frequency & PWM
10. Modulation
11. Study of Switched Faults in AM, FM & PWM system
12. Full Duplex Computer Communication using RS232 ports and software
Technical Specifications:
1. Transmitter : 2 No.,Fiber Optic LED having peak wavelength of emission 660 nm & 950 nm
2. Receiver : 2 Nos., Fiber Optic Photodetector
3. Modulation Techniques : 1. AM 2. FM 3. PWM
Drivers : 1 No. with Analog & Digital modes
1. AC Amplifier : 2 Nos.
2. Clock : Crystal Controlled Clock 4.096 MHz
3. PLL detector : 1 No.
4. Comparator : 2 Nos.
5. Filters : 2 Nos. 4 order Butterworth, 3.4 KHz cut off frequency
6. Analog Band Width : 350 KHz
7. Digital Band Width : 2.5 MHz