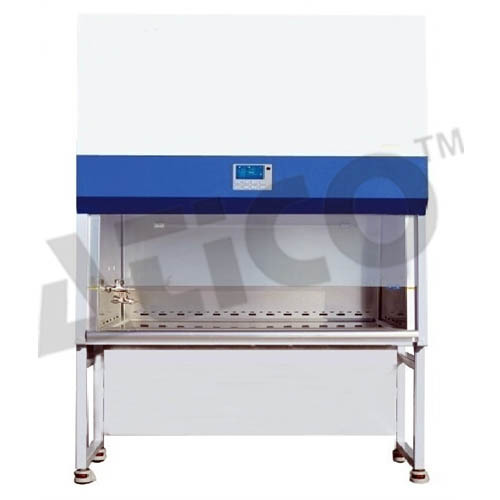 Product Description
Owing to our strong market reputation, we have been able to win the faith of customers as a reliable manufacturer and supplier of Biological Safety Cabinet. These cabinets are made from superior quality materials at our state of the art machining facility, under the observation of veteran engineers. It is an enclosed and ventilated laboratory workspace, used during testing the samples and protects them from contamination. Our clients can avail Biological Safety Cabinet from us at a nominal price.
Features:
Built in with HEPA filter, exhaust filter, fluorescent illumination, and UV Germicidal light,
Sturdy design, energy efficient and zero maintenance
Exhaust air borne particles and maintain hygienic environment inside
Further Details:

Re-Circulation of Air arrangement is provided for re-circulation of air thus creating highest level of clean air. Sliding Sash renders unit convertible for use a conventional vertical laminar flow bench by lifting sliding door upwards. Filtered Exhaust protects work space and avoids build up of air borne particles. Supplementary air barrier make up air is sucked through to prevent contamination. Glove Parts and Gauntlets permits working with medium to low risk organisms. Unidentified stains of pathogenic cultures.Virus Burn Out ensures destruction of pathogens present in outlet/exhausted air, thus a step towards environment protection.
Supplied complete with satin finish perforated S.S. table top, sliding front door, static pressure manometer, built in U.V. Germicidal light, glove port and gauntlets, HEPA filter, pre filter, Pre filter at exhaust, fluorescent illumination and cock for gas, air or vaccum line. To work on 220/230 volts AC supply.