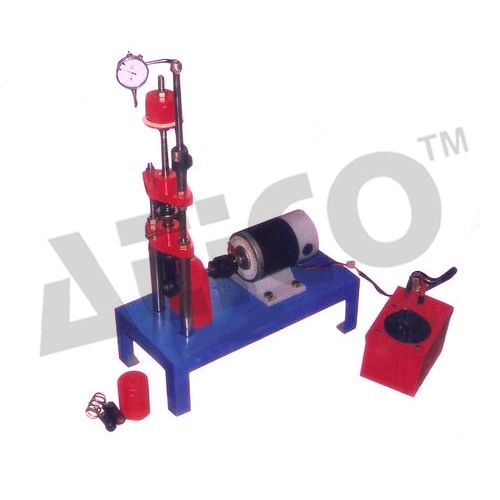 Product Description
AdvancedTechnocracy Inc. is Manufacturer, Exporter &Supplier of CAM ANALYSIS MACHINE.
Description

The unit consists of a cam profile and studyof cam follower system. The instrument consists of cam mounted shaft supportedby ball bearing upon which three different type of cam can be mounted. The pushrod for follower is supported vertically which can adopt three different typeof followers can be changed easily. Motor rotates the cam and dial gauge isprovided for plotting of follower displacement W.R.T. cam position. Cam jumpspeed can be found by operating different speed and effect of speed and springforce on jump speed can also be studied.
Specification:
Cam Eccentric, tangent, circular.

Follower Knife edge, roller type &mushroom type.

Variable speed motor coupled to cam shaft ofsuitable range and various speeds.

A dial gauge.

The unit is mounted on sturdy base.
RangeOf Experiments:
Plotting and analysis of the X-0 curve.

The velocities and accelerations of thefollower may be derived and hence inertia forces plotted over the whole liftperiod. The condition of follower bounce can clearly be shown

by carrying out theoretical calculations& graph from X-0 curve

Test can be repeated by changing parameterslike various compression springs,

Follower weights and cam speed.

To study the effect of follower weights (W)on the speed of bounce.

To study the effect of initial springcompression (S) on the peed of bounce.