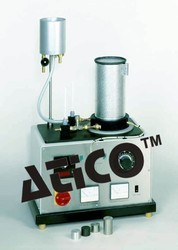 Product Description
Advanced Technocracy Inc. is Manufacturer, Exporter & Supplier of Heat Conduction in Solids.
Technical Description
The fundamental laws of steady-state thermal conduction in solid bodies can be investigated with this benchtop unit. The specimens are arranged between an electrical heater and a water-cooled plate. A Dewar vessel prevents the exchange of heat with the surrounding environment. The specimens are equipped with several temperature measuring points. The heat transfer rate is determined via the current and voltage of the heater.
A supply of cooling water is required.