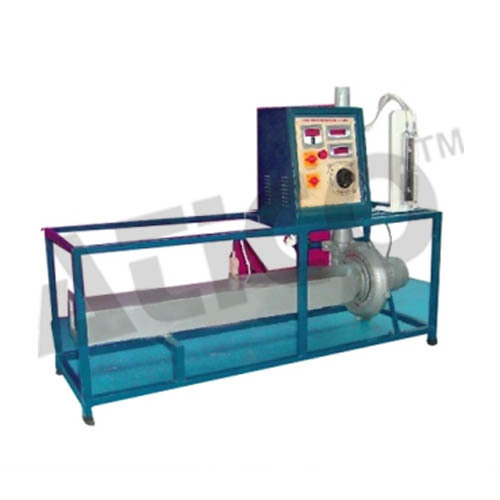 Product Description
HeatTransfer From A Pin Fin:
Advanced Technocracy Inc. is Manufacturer,Exporter & Supplier of HEAT TRANSFERFROM A PIN FIN
The setup is designed to study the heattransfer in a pin fin. It consists of pin type fin fitted in duct. A fan isprovided on one side of duct to conduct experiments under forced draftconditions. Airflow rates can be varied with the help of damper provided in theduct. A heater heats one end of fin and heat flows to another end. Heat inputto the heater is given through Variac. Digital Temperature Indicator measurestemperature distribution along the fin.
HeatTransfer From A Pin Fin Angel Of Experiments To Be Carried Out :
To study the temperature distribution alongthe length of a pin fin in natural & forced convection.

To calculate Gr, Pr & Nu number innatural conviction.

Calculate Re , Pr & Nu number in forcedconviction.

Calculate the value of m & obtain thetemperature at various locations along the length of the fin in natural &forced conviction.

Calculate the values of heat transfer ratefrom the fin & the fin effectiveness in natural & forced conviction.

The experiments can be conducted at variousvalues of input & calculation can be made accordingly.
HeatTransfer from A Pin Fin Technical Details:
Fin Material: Brass

Size: 12.5 mm (approx.) 15 cm long (approx.)

Duct: Made of MS

Fan: Standardmake

Heater: Band type, Nichrome Wire

Temperature Sensors: 5 for pin and 1 for ducttemperature.

Digital Temperature Indicator: 0-300 degreeC, with multi-channel switch, On/Off switch, Mains Indicator etc

The whole setup ismounted on a powder coated base plate