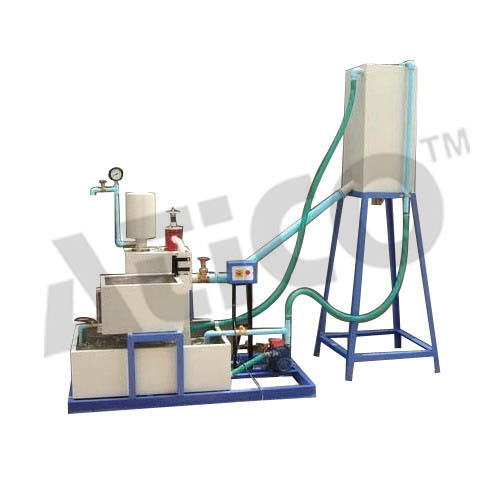 Product Description
Supported by highly experienced professionals, we have emerged as an affluent manufacturer, exporter and supplier of Hydraulic Ram. This product is used to pump little quantity of water to high head from a large quantity of water available at low head. Our offered product is manufactured by our skilled professionals using pristine quality components and pioneering technology in adherence with the international quality standards. Moreover, the provided Hydraulic Ram is available in numerous technical specifications as per the specific needs of the clients at competitive prices.
Features:
Easy to operate

High performance

Longer service life

Robust construction
Principle of work:
It works on a principle of water hammer stating that when flowing water is suddenly stopped in a long pipe a pressure wave travels along the pipe creating an effect of water hammer 1/2.
Set up consists of a pipe section fitted with a pulse valve and non-return valve, a supply reservoir on a stand which is connected to an overhead tank, an air vessel above the valve chamber smoothes cyclic fluctuations from the Ram delivery. Different pressure may be applied to the pulse valve to change the closing pressure and hence the operating characteristic.
The flow rate of useful and waste water is measured using measuring tank and stop watch provided. Pressure gauge is connected for the purpose of measurement.
Experiments:
To find out discharge of useful water and waste water.
To find out the efficiency of the Hydraulic ram.
Utilities Required:
Electric supply: Provide 230 +/- 10 VAC, 50 Hz, single phase electric supply with proper earthing. (Neutral Earth voltage less than 5 VAC.) 5A, three pin socket with switch for pump.
Water supply: Tap water connection, Distilled water @ 250 liters (optional)
Technical Details:
Product: Hydraulic Ram
Product code: HML-03
RAM :Size 50 x 15mm, Supply Head 2.5m approx, Delivery Head 1.0m (Max.)
Air Vessel: Suitable capacity MOC SS
Delivery line : For RAM, Dia 50 mm length 1 m.
Pump :Capacity 1HP, Crompton/Sharp / Hero make
Supply Tank: Capacity 140 Ltrs.
Overhead Tank: Capacity 80 Ltrs.
Measuring Tank: For useful water 1000ml (Measuring Cylinder), For Waste water 20ltr SS tank fitted with Piezometer
Piping: GI / PVC
Stop Watch: Electronic
Control Panel :With required electrical instrumentation
Overall Dimensions