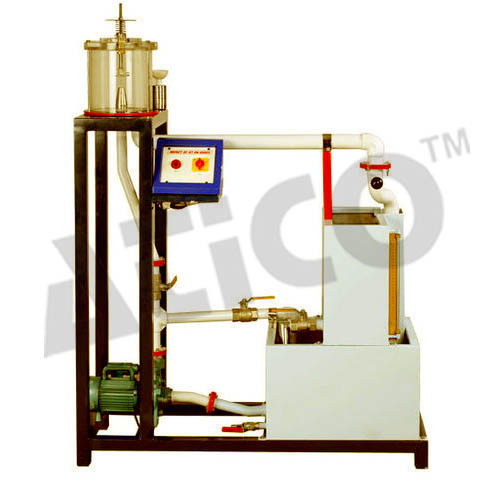 Impact Of Jet On Vanes Apparatus
Product Code : FMLE-02
Product Description
Impact Of Jet On Vanes Apparatus

Advanced Technocracy Inc. is Manufacturer, Exporter & Supplier of IMPACT OF JET ON VANES APPARATUS.

The setup is designed to study the forced developed by a jet of water on different surfaces and to compare it with momentum theory.

Set up consists of visible test enclosure, supply tank, measuring tank and pump for closed loop water circulation. The visible test section housed one nozzle fitted in vertical upward direction to target the jet of water opposite an interchangeable test surface (either flat plate or a hemispherical cup) which in term is connected to a spring loaded stem. The lift of stem and weight added to the pan on other side gives the calculation of corresponding force.

The flow rate of water is measured using measuring tank and stop watch provided.

EXPERIMENTS:

To study the force developed by impact of jet on different surfaces.

FEATURES:

Visible Test Section
Closed loop water circulation
Compact & stand alone set up
Stainless Steel tanks and wetted parts
Superb Painted structure
Simple to operate & maintain
UTILITIES REQUIRED:
Electric supply : 0.5 kW, 220V AC, Single Phase
Water supply : Tap water connection , Distilled water @ 60 liters (optional)
Floor Area with Drain facility
TECHNICAL DETAILS:
Product Jet On Vanes Apparatus
Product code FMLE-02
Test surface Set of 2, Flat Plate & Hemispherical Cup
Nozzle Material Brass/SS
Enclosure Clear acrylic
Supply Tank Capacity 85. MOC SS
Measuring tank Capacity 40 Liters MOC SS fitted with Piezometer Tube & scale
Pump FHP capacity make Tullu / Crompton Greaves
Piping GI / PVC
Stop Watch Electronic
Overall Dimensions