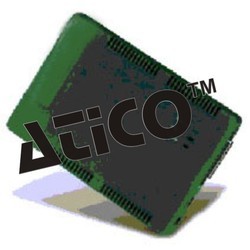 In Circuit Emulator Advance
Product Code : DT-003
Product Description
In Circuit Emulator Advancev
Advanced Technocracy Inc. is Manufacturer, Exporter & Supplier of In Circuit Emulator Advance.
In-Circuit Emulator Advance 89xxxx Series
It is easy to emulate the other CPU just replaced the CPU POD. It can transparently emulate Intel 8096/196 series up to 20MHz. It supports MHLD high level language debugger besides general function such as hardware bus/execution breakpoints, real-time trace with 16 channels waveform display etc.
Real-time Hardware Breakpoint
· Offer 64K hardware execution breakpoints.
· Also offer but hardware breakpoint as follows:
- 2 (up to 6) Bus hardware breakpoint
- Break condition: Address Bus, Data Bus, CPU Status and 3 (up to 8) External Triggers.
- Passing Count: 256 (up to 4096) times.
- Break Mode: And, Or (For 2 breakpoints); And, Or, Sequential (for 6 bus breakpoints)
- Range break (for 6 bus breakpoints)
Real-time Hardware Trace
· 8K frame * 48 bus include Address * 16, Date * 16, (CPU + External probe) * 8, Port 2.
· Trace conditions/modes are same as Break Setting.
· Trace for 6 breakpoints model can be set with filtering.
· Trace point can be set a Forward, Backward and About Trace.
· It can be displayed 16 channels waveform.
· Offer C language debugging environment.
· 3 display mode: Assembly, C or mixed mode.
· Built-in power supply: 90V260V AC; 50mA, @ 115V AC Max.
· Frequency: 40Hz70Hz
· Power Consumption: 15W (max).