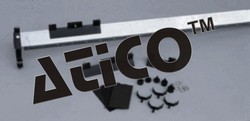 Product Description
Advanced Technocracy Inc. is Manufacturer, Exporter & Supplier of Linear Air Track Experimen
Description
Suitable for study of Linear Air Track Experiment and linear motion under nearly frictionless conditions. The kit consists of square section aluminum track, length 1.5m with two rows of fine holes along the top. Supported on two light alloy castings. One support has a two point contact and other a one point contact for lateral and horizontal adjustments by means of a knurled screw. One end of the section is fitted with a tube for connection to blower and the other end is closed.
Comes complete with following accessories:
2 heavy and 1 light vehicle with their mass ratio 2:1.
2 Magnetic buffers
2 Plasticine Holders with central hole
4 Catapults with slots for elastic band
1 Reel of nylon thread
2 White rods(4 mm diam.150 mm long)
24 Needles
20 Black plain cards
1 Pack of plasticine
20 Elastic bands
1 Instruction manual
Other Information
Pay Mode Terms: L/C (Letter of Credit)