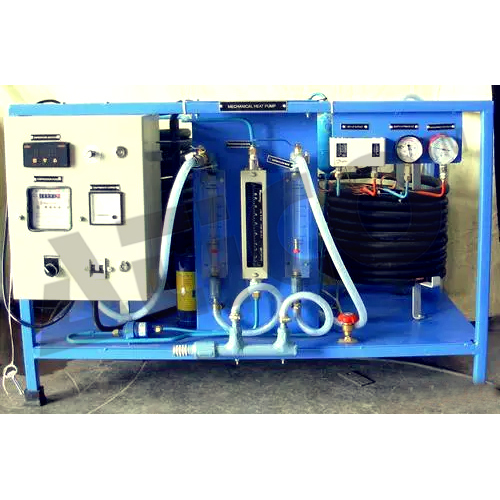 Product Description
is Manufacturer, Exporter &Supplier of MECHANICAL HEAT PUMP.
TechnicalSpecifications:
Compressor: Hermetically sealed compressor shallbe provided with its standardized electrical accessories.
Condenser : Water immersed / cooled typeshall and heat exchanger.
Evaporator : Water immersed / cooled type shall and heat exchanger.
Water Pump: 2 Nos. (1 for Condenser and 2 forEvaporator, which shall be
Connected separately for both Rota meter.
Measuring Control : Main Switch, Voltmeter Digitaltype, Amp. Meter Digital type, & Components Switches, Indication Lights,Energy Meter for Compressor input, Suction Gauge for flow Pressure Measurement,Discharge Gauge for High Pressure Measurement, Capillary Tube, Expansion Device,Drier, Gas Charging Valve.
Digital Temperature: Provided with selectedswitch for various temperature applications. Indicator).
a. b. 2Nos. Digital Rota meter to measure the water flow rate.
forCondenser water and 2 for Evaporator water circulations.)
Voltage : Single Phase 220 Volts 50Hz.
Refrigerant: Freon 134 A
Base : All the above Control and component shall be provided on Sun mica Boardand finally accommodate on Heavy Duty Angle Iron Base.
Detailed Technical Manual should be providedwith the supplied equipment.