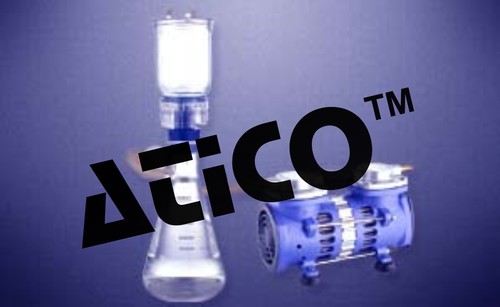 Product Description
Membrane Filtration Assembly - PC
Advanced Technocracy Inc. is Manufacturer, Exporter & Supplier of Membrane Filtration Assembly - PC
Unique Features :
Use to vacuum filter small volume for particulate or biological contamination analysis. Low hold up volume.
Applications : For tangential flow micro porous filtration.
Complete Assembly consists of
1.) Filter Funnel PC with Cover capacity
300 ml
2.) Membrane Filter C.N. 47 mm/0.45 μm
pack of 100
3.) Vacuum Flask one litre Borosil/Schott
4.) Vacuum pump diaphragm type-oil free
5.) Air vent filter- Hydrophobic PTFE
50 mm/ 0.2 μm
6.) PTFE Syringe Filter 0.2 μm/25 mm
with needle
7.) Flexible Tubing 1 mtr.
8.) Plastic Tweezers (forceps)