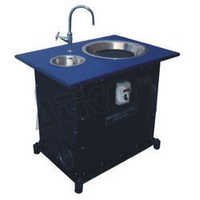 Metallurgical Polishing Machine
Product Description
Metallurgical Polishing Machine
Advanced Technocracy Inc. is Manufacturer, Exporter & Supplier of Metallurgical Polishing Machine.
The disc polisher consists of a 20 cm balanced polishing disc mounted on a steel spindle. The spindle is located on heavy duty ball bearing. The disc is easily removable for quick changing of the polishing cloth or paper, which is fastened on the disc by mean of spring or rubber girdle on the rim of the disc. Around the disc is an aluminium drain jacket fitted with drain tube.
The speed of the disc can be continuously varied from 450 to 1200 r.p.m. A metallic reservoir is also provided for dropping water on the specimen. The machine is electrically operated suitable for operation on 220 / 230 volts single phase . A . C . supply.
1. Single Disc 2. Double Disc .