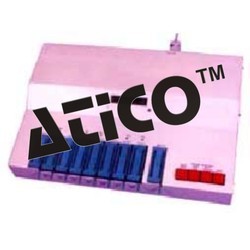 Product Description
Advanced Technocracy Inc. is Manufacturer, Exporter & Supplier of Micro Gang Programmer.
FEATURES
· Copying facility from master to eight slaves at a time.
· Can copy EPROM, EEPROM, Flash Memory & Microcontrollers.
· 16 x 2 LCD Display.
· 4 keys to perform program, Verify, Blank CHeck, Auto, Erase, Checksum & Select in Copier Mode.
· Can be connected to IBMPC, NOTE-BOOK, HAND-BOOK through RS-232C port.
· Can program eprom, eeprom & flash memory.
· User-friendly menu driven softare to interface with PC.
· In-built Power Supply.