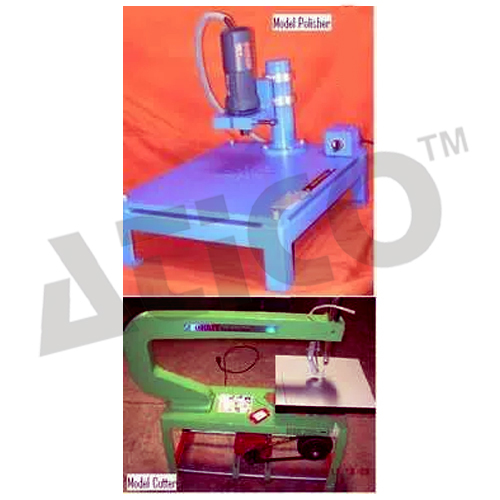 Product Description
MODEL CUTTER AND MODEL POLISHER

Advanced Technocracy Inc. is Manufacturer, Exporter & Supplier of MODEL CUTTER AND MODEL POLISHER.
Model Cutter :
Supply-230 V. AC, Single Phase , FHP motor.
Number of strokes per minute of the reciprocating blade =200 approx. Table area for cutting operation 30cm.x 30cm.
Can be used to cut a template of the required shape &size from Aluminum sheet2-3mm, Thickness by using special blades, 1-2mm,oversize on the contour by using.
Model Polisher :
The specimen cut on the fret saw unit ,can be polished and counter finished to the required size by using model polisher.
Table floor-30cm x 30cm.
Power supply 230 V AC single phase.
Cutting Speed -18000 r.p.m. (Approx).
Cutting tool-1) 025 dia (fine) guiding plug- 1/4
Motor is well covered and ventilated to see that the plastic dust is not entering in it. Switch board, fitted on the front side consists of a fuse, push button and supply for dust collector and on-off switches.

Motorized Fret Saw.