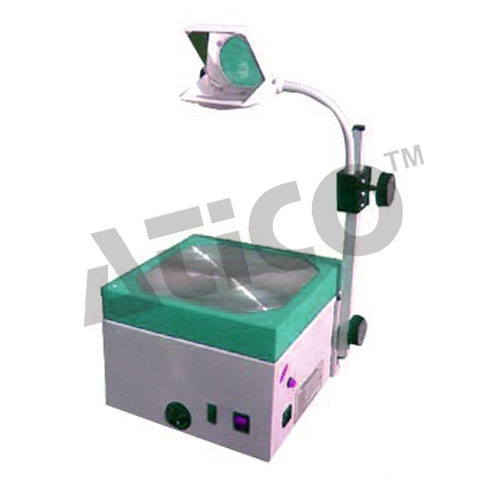 Over Head Projectors
Product Description
Over Head Projectors
Advanced Technocracy Inc. is Manufacturer, Exporter & Supplier of Over Head Projectors
Body of thick mild steel / fiber Body finished in powder coated colour combinations.
Projection Head folding type, focusing by Rack-n-Pinion.
lIlluminations : 24V-250W on step-down transformer with solid state control.
Writing surface 250 x 250 mm or 285 x 285 mm. Complete with on-off switch,mains indicator, light intensity control switch, cord- plug & fuse.
Standard Accessories with the Equipment :
Transparent cellophane roll, writing pack, cleaning cloth, venyl cover. Packed in a card board box with thermocol packing.
Single low voltage bulb 24V-250W, Halogen through step-down transformer.

Double low voltage system with 2 Halogen bulbs- 2450 W through step-down transformer. The dual bulb system facilitates switching over to second provided bulb instantly in case of damage of the running one without disturbing continuity of discussion.

Writing surface of 285 x 285 mm instead

250 x 250 mm. Rest same

Writing surface of 285 x 285 mm instead

250 x 250 mm. Rest same as