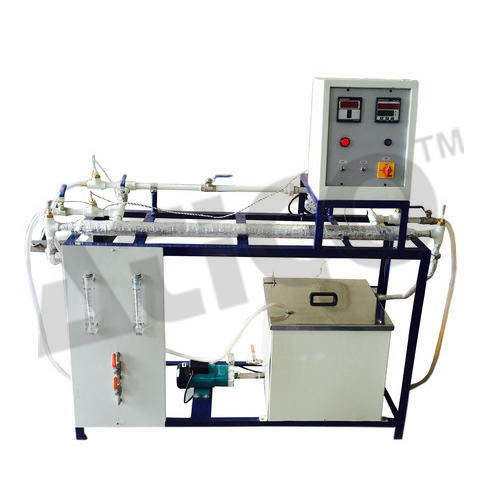 Parallel And Counter Flow Heat
Product Code : MTLE-07
Product Description
PARALLEL AND COUNTER FLOW HEAT EXCHANGER

System Feature
compact, comprehensive, sturdy design

Fully instrumentation for experimentation of heat transfer process study

Direct reading of temperature, voltmeter and ammeter measurement.

Demonstrations of heat transfer through concentric tube heat exchanger.

Fault Trainer as optional attachments.
System Description
The apparatus consist of a heat exchanger mounted on a rigid MS structure frame with a control panel. A Centrifugal pump and a sump tank made up of non-corrosive PVC are placed at bottom. A separate hot water boiler is supplied with the equipment. It is fitted with a level switch, relief valve. Hot water from the boiler is fed into one end of the inner tube, which gets cools after passing through the length of the tube. Cold water is circulated through the boiler tubes with the help of centrifugal pump. Cold water will be circulated from tap water of lab will drained to lab drainage line. Outer tube GI 1 dia. This is tube in tube system having inner tube of copper and outer of GI. The heat will be transfer effectively counter flow of both the water.
Operation & Maintenance Manual
Self-explanatory operating & maintenance manual will be provided. This will include Theory, operating procedure, standard results, and maintenance procedures.
System Components

Inner Tube 15 mm (D) x 0.7mm wall thickness,(Copper)

Digital Temperature Indicator Range 0-150

°

C. with selector switch.

Temperature sensor: RTD (Pt100) / Thermocouple. 5 Nos.

Sump Tank. 40 Liter (Approx.)

Centrifugal Pump

Digital Watt meter

Stand

Piping & wiring.

Small Boiler with 3kW heater

Heater Regulator

Flow Meter-Rotameter 0.2-3.0 lit/min and 0.5-5.0lit/min
Service Required at Site

Electric Supply 230V 50Hz. With Proper Earthing.

Tap Water supply & drainage
Optional Accessories

Fault Trainer.

Data logging software

Set of transparencies

Dimensions: Height 1.3m, Weight 0.8m, depth 6m