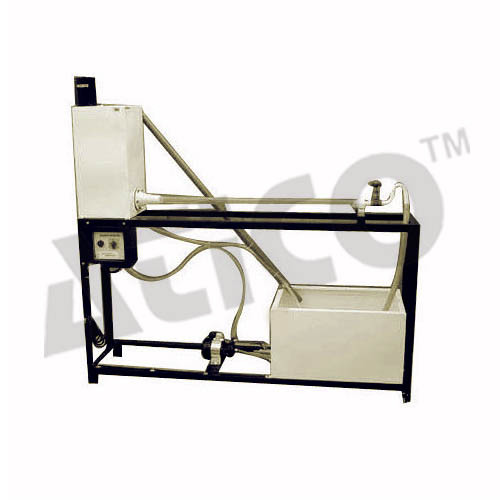 Product Description
Advanced Technocracy Inc. is Manufacturer, Exporter & Supplier of REYNOLD APPARATUS
The apparatus consists of a glass tube with one end having bell mouth entrance; connected to a constant headwater tank, at the other end a valve is provided to vary the flow rate. The tank is of sufficient capacity to store water; a capillary tube is introduced centrally in the bell mouth for feeding dye from a small container placed at the top of tank, through polythene tubing. By varying the rate of flow, the Reynolds number is changed; this also changes the type of flow. Visual observation of dye (Thread) will indicate the type of flow, which can be confirmed from the Reynolds number computed. Present set-up is self-contained water re-circulating unit, provided with a sump tank and a centrifugal pump etc. Flow control valve and by-pass valve are fitted in water line. Flow rate of water is measured with the help of measuring cylinder and stop watch.
EXPERIMENTS:
To determine the Reynolds number and hence the type of flow either laminar or turbulent

To study transition zone
UTILITIES REQUIRED:
Electric supply

0.5 kW, 220V AC, Single Phase
Water supply

Tap water connection,

Distilled water @ 60 liters (optional)
Floor Area with Drain facility
Product Reynolds Apparatus
Product code FMLE-05
Tube

Material Borosilicate Glass

Dye vessel

Material Stainless Steel, Suitable Capacity

Capillary Tube

Material Copper/Stainless Steel

Constant Head Water Tank

Capacity 25 Ltrs

Water Circulation

FHP Pump, Tullu/Champion make.

Flow Measurement

Using Measuring Cylinder.

Sump Tank

Capacity 85 Ltrs

Stop Watch

Electronic

Control Panel

On/Off Switch, Mains Indicator, etc.