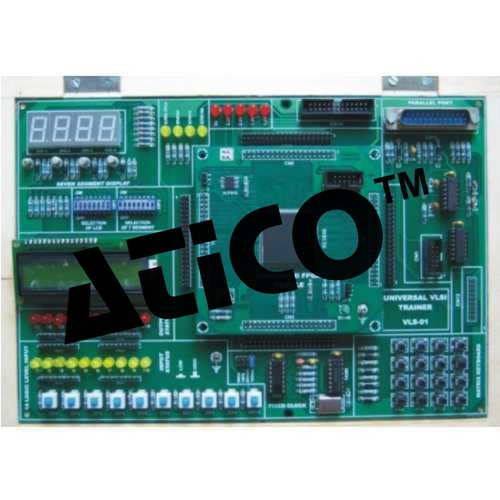 Product Description
Universal VLSI Trainer

Advanced Technocracy Inc. is Manufacturer, Exporter & Supplier of Universal VLSI Trainer.
Universal VLSI Trainer is a FPGA/CPLD based VLSI Board for implementing various digital design for any Embedded applications.
Indicators :
16 input using 2 nos. Of 8 way DIP Switch with LED indication to indicate logic low and logic high.
16 LED for output indication.
On-board Interfaces :
4 Digit Seven Segment Displays
8 bit A/D convertor using ADC-0809
8 bit D/A convertor using DAC-0800
Stepper Motor Interface
Relay Interface
Ps2 Interface
RS-232 Interface
VGA Interface
16x1 Alphanumeric LCD Display
5x4 Keys Keyboard Matrix
Clock generator :
On-board 50MHz, 10MHz, 5MHz, 1MHz, 100KHz & 100Hz
Other Details :
Power selection : On-board of 5V, 3.3V, 2.5V, 1.5V & 1.2V
Power on Reset and configuration reset key
I/O expansions are provided through 26 pin FRC Connector for other application interface
All IC's are mounted on IC Sockets
Bare board Tested Glass Epoxy SMOBC PCB is used
In-Built Power Supply of +5V/1.5A, ±12V/250mA
Attractive Wooden enclosures of Light weight Australian Pine Wood
User's Manual with 25 sample experimental programs
ISP Programmer for Piggy Bag Module.