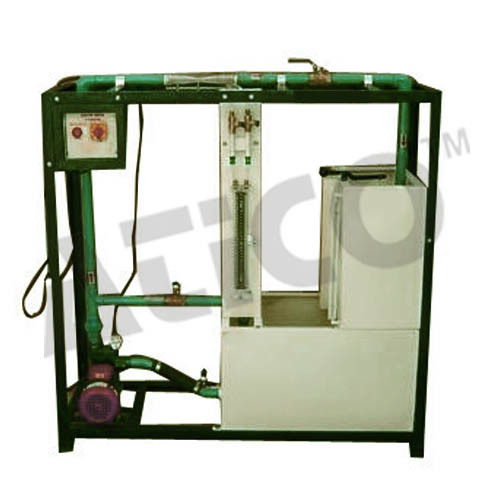 Venturimeter And Orificemeter Apparatus
Product Code : FMLE-06
Product Description
Advanced Technocracy Inc. is Manufacturer, Exporter & Supplier of VENTURIMETER & ORIFICEMETER APPARATUS.
he apparatus consists of two pipelines emerging out from a common manifold. One pipeline contain a Venturimeter and other contain an Orifice. The pressure tapings from the Venturimeter and Orificemeter are taken to differential manometer to measure pressure difference. The Venturimeter & Orificemeter are connected in parallel and anyone of them can be put in operation by operating valves provided at the downstream. These valves can also regulate the flow.
Present set-up is self-contained water re-circulating unit, provided with a sump tank and a centrifugal pump. Flow control valve and by-pass valve are fitted in water line to conduct the experiment on different flow rates. Flow rate of water is measured with the help of measuring tank and stopwatch.
EXPERIMENTS:
To determine the co-efficient of discharged through Venturimeter and orifice meter.
To measure discharge through Venturimeter and Orificemeter as flow meters.
UTILITIES REQUIRED:
Electric supply 0.5 kW, 220V AC, Single Phase
Water supply Tap water connection, Distilled water @ 60 liters (optional)
Floor Area with Drain facility
TECHNICAL DETAILS:
Product Venturimeter & Orificemeter Apparatus
Product code FMLE-06
Venturimeter Material Clear Acrylic compatible to 1inch Dia. Pipe
Orificemeter Material Clear Acrylic compatible to 1inch Dia. Pipe.
Water Circulation FHP Pump, Crompton/Sharp make.
Flow Measurement Using Measuring Tank, Capacity 40 Ltrs.
Sump Tank Capacity 85 Ltrs
Stop Watch Electronic
Control Panel On/Off Switch, Mains Indicator, etc